---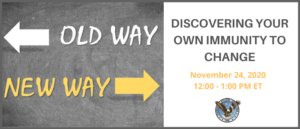 In order to begin the change process, it's important to understand that there are hidden dynamics that prevent change. It is very hard to bring significant change without changes in individual behaviors.
When we ask people to change their behaviors we ask them to change the meaning they give to those behaviors as well. That's hard to do without considering the possibility that we, ourselves must change. The result is that we often fail to manage change despite our best efforts, in spite of our sincere intention. We need a way to change how people make sense of their reality, and to stay open to change in the process.
The immunity to change is not another theory of change or a way to beat resistance to change. Instead, this is an attempt to get a better understanding of the forces opposing the change. More specifically, it is about a system of countervailing motions to maintain balance, an equilibrating process continuously manufacturing immunity to change. It's possible to throw all kinds of resources, actions or strategies at this dynamic equilibrium. Yet – regardless if the change is about losing 10 pounds or about becoming more customer-oriented – the process of dynamic equilibrium eventually just brings you back to where you started.
But if you diagnose the immunity to change, you can beat it, understand it, and prevent the trouble for your organizational change! How do you do it?
Join Adriano Pianesi for this free webinar and learn how to diagnose your own immunity to change in 4 simple steps, become more compassionate, and understand how hard it is for people to change.
This event is free and open to all who wish to participate. We encourage you to share the event information with others so they can experience the professional development opportunities TOC has to offer!
*If you are already a paid registrant you have automatically been added as an attendee for this event and do not need to register again.
---
Adriano Pianesi is a leadership educator and a Change consultant. His work specializes in leading change and innovation by creating a space – physical and virtual – where people are empowered to build their future. His work as a practitioner is influenced by his 15-year career in the corporate world where he worked as a Marketing Manager and Sales Executive. Adriano's research focuses on large group methods, adaptive leadership, culture change, team dynamics, and change management. He has been teaching with Johns Hopkins Carey Business School since 2008, he is a faculty member of the Leadership School of the Foreign Service of the US State Department.
---
This program covers topics in the Leadership Development track.
Executive Core Qualifications (ECQs) covered in this session:  Leading Change (Resilience), Leading People (Developing Others).