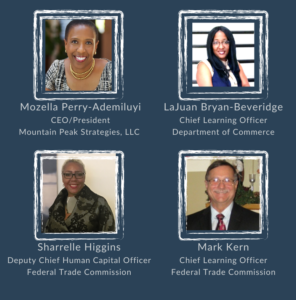 In today's fast-changing business environment, continual development and overall well-being are essential factors for employees. As a result, C-Suite executives are taking on a more involved role, particularly as their efforts relate to the five Executive Core Qualifications.  The Training Officers Consortium is excited to present a C-Suite panel, which will encompass chiefs working in both the federal and private sector. During the panel, the chiefs will share their experiences with our learning and leadership professionals. Attendees will also have the opportunity to chat with our C-Suite network to learn more about how their purpose fuels passion and performance, as well as how they achieve maximum results in leading change and people.
The purpose of the C-Suite panel is to inspire attendees with aspirations of becoming a Chief Learning Officer, Chief Technology Officer, Chief Human Capital Officer, Chief Information Officer, Chief Financial Officer, or Chief Executive Officer. By experiencing the panel, attendees will hear first-hand accounts from these chiefs and their roles as transformers, mentors, and coaches dedicated to reshaping organizational capabilities and culture.
---
All full and group registrants of this program year (2021-2022) are invited to attend at no cost.
TOC takes your health and safety very seriously and will abide by the COVID-19 CDC and Health Guidance for the District of Columbia. Regardless of vaccination status, all attendees must wear a mask at all times unless actively eating and drinking. We also advise you to consult your organization's guidance. We are staying abreast of national and local guidance and will keep you apprised of any changes to this event.
We can't wait to see you!
FAQs:
Q- I am a paid registrant but cannot attend in person. Is there an option for me to view online?
A- Our goal is to make the in person sessions available via live stream to registrants who have opted for the full registration package. We will send information separately before the event date.
Q- I am not a current registrant, can I attend this Professional Development Program event?
A- Yes, you can attend this event for a onetime cost of $60 or you can register for the full program year and attend this plus all upcoming professional development sessions!
Q- I am a virtual only registrant, can I attend this Professional Development Program event?
A- Unfortunately, the virtual only registration does not include the in person sessions. However, you can attend at a onetime cost of $60.
---