What can learning & development professionals do to create a flourishing workplace?
Consider this:
Complexity of the times we live in has increased- a higher level of consciousness is needed to address the current challenges
33% of the US Employees are engaged at work compared to 70%, which we find in the world's best organizations
85% of adults worldwide are not engaged or are actively disengaged
We are witnessing higher levels of stress and an increased level of anxiety globally
We are paying higher medical bills and quality of life has diminished
At the global level, there are shortages of resources (food, water, shelter)
The political landscape has dramatically changed and we are observing a new kind of discourse in the global economy
The UN's agenda has shifted to Sustainable Development Goals named "One Humanity"
We currently have 3 Generations in the workplace: 75 Mil
Multitasking is a real word in the vocabulary: we have diminished our focus and attention
The education system is not fully addressing the emerging needs of the workplace and life in general
Psychological safety is starting to become meaningful in some pioneer organizations (Re: Work- Google)
We are noticing an increased "awakening" as people look for alternative solutions to managing their health and wellbeing
We are seeing an increased demand in coach training programs, holistic medicine, holistic education, holistic everything.
Hence:
A more universal approach to management and leadership is needed to fully address the whole person and the whole system
A more universal approach to learning is needed to fully address the whole-person and the whole system
A more universal approach to healing is needed to fully address the whole person and the whole system
How do we address these pressing demands? What can the learning and development community do to address the needs and help elevate consciousness in the workplace towards flourishing?
This program covers topics in the Innovation track.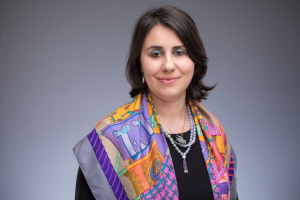 The ECQs covered include Leading Change, Leading People, Results Driven, Business Acumen, Building Coalitions, and the Fundamental Competencies.
Ina Gijkondi is a global leadership development professional and a certified executive coach committed to elevating people and organizations to the next level of consciousness. Ina is inspired by her son Hadrian, who teaches her to slow down and to show up for life with genuine curiosity. She appreciates the diversity of human spirit, kindness, abundance, traveling, poetry, seating by the sea, music and fresh food. Ina is the Director of Executive Education and Coaching Programs at the George Washington University, Center for Excellence in Public Leadership. She holds an MA in Human Resources Development and an MPS in Political Management, both from the George Washington University. Ina did her BA in Law at the University of Tirana, Albania.