TOC Learning Fair is a showcase of learning and performance support projects with a special focus on not just the projects themselves but also the results they've produced. This event offers you an amazing opportunity to see a wide variety of projects and talk to the designers and developers about the tools, technologies, and processes they used to build them.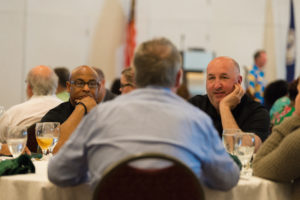 Much like a science fair, TOC Learning Fair is arranged with a table for each project being shown. The developers and/or designers of each project will be right there to answer any questions you might have about the challenge they were trying to solve, the project design they chose, the development and implementation processes they used, and the results they found once the project was launched. In many cases, they'll even be able to give you a hands-on demonstration.
Feel free to browse all the projects on display or just pick and choose the ones you're most interested in. At the end of the event, vote for your favorite projects and they may win a "Best Of" prize!
If you have an amazing project, lessons from a spectacular flame-out, an innovative approach, or a novel tool that makes your professional life easier, please consider sharing it with the TOC community by hosting a table at the Learning Fair. Read more about the Learning Fair and sign up for a table.
TOC Learning Fair will be held Monday, April 20, 2020, 4:30 PM – 6:00 PM at the Annual Institute in Ocean City, MD.