The Training Officers Consortium is excited to announce that we are accepting nominations for the 2019 Distinguished Service Awards!
Nominate your team, your organization or yourself to be recognized for the valuable contributions to our community. TOC's training community is making a difference in government—and you can help ensure their contributions are recognized. Submit your nominations by May 3, 2019.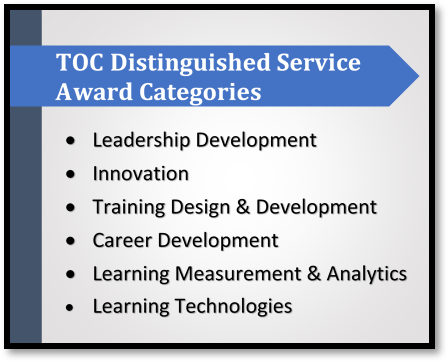 Launched in 1955 as a way to stimulate improved government-sponsored training programs through recognition, the TOC Distinguished Service Awards are presented annually in June to individuals/teams making significant contributions to the Federal training community in the field of human resource development.
Awards are presented in the categories of Leadership Development; Innovation; Training Design & Development; Career Development; Learning Measurement & Analytics; and Learning Technologies. All government-sponsored talent development practices and initiatives organizations use to enhance and develop the knowledge, skills, and capabilities of their employees are eligible for nominations.
Remember: You must submit your nominations by May 3, 2019. Please visit the Awards page on our website for nomination procedures and selection criteria. If you have questions or need additional information, contact Shanda Adams at Shanda.Adams@occ.treas.gov or 202-649-8414.