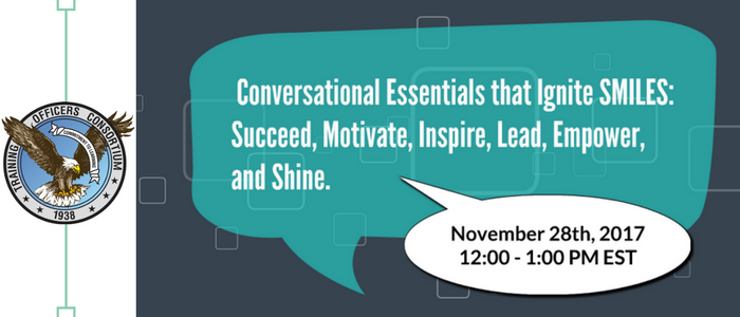 Join us on Tuesday, November 28 at noon EST  for the next TOC webinar: "Conversational Essentials that Ignite SMILES: Succeed, Motivate, Inspire, Lead, Empower, and Shine" by our very own Barbara Schaffer.
Register now!
Thanks to neuroscience research, we know that we possess numerous forms of intelligence. In addition to IQ, EQ, there's C-IQ — Conversational Intelligence. Great conversations emerge from interactions where trust and shared purpose coexist. Think of conversations as the building blocks of relationships and organizational culture. Our ability to succeed, motivate, inspire, lead, empower, and shine has a direct correlation to the results of the interactions we have with others. This webinar will provide some essential behaviors and tools, based on neuroscience research, to boost your Conversational Intelligence (C-IQ), and ignite the SMILE factor.
You will learn:
Practices that lower C-IQ
Three Levels of Conversation
Practices that raise C-IQ
Register today at https://toc.adobeconnect.com/smile/event/event_info.html
About our Speaker: In her work as a leadership consultant and coach, Barbara is committed to helping organizations, teams, and individuals create a culture of inclusion, collaboration, and trust so people can thrive and do their best work. Barbara has over 20 years of experience in performance improvement, coaching, leadership development, training, and facilitation. After a successful 11-year career in training and development at the American Red Cross, she founded Barbara Schaffer Consulting.